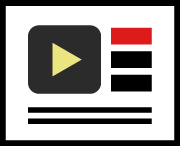 39 Prototyping Tools to Design Modern User Interfaces & Collaborate With Your Team
Prototyping and creating mockups were very much less interactive in the past, consisting mostly of static representation of ideas and designs. At the moment, everything seems to be much easier, faster, more convenient, animated, interactive and with collaborative features.
Whether you need to create a new iOS app, a website or any form of design, prototyping is an essential stage where ideas are grouped together and tested, involving both the development team and the client. Both UI / UX can be thoroughly experimented on to create the best experience for the users.
With today's advanced technologies and great demands for more sophisticated prototyping tools, you'll be facing a different set of problems – choosing the right one for yourself. There are just way too many great tools out there (which is a good problem!) that you're forced to re-list your set of requirements to find a suitable one. In the list below, you'll find 39 tools, softwares and apps for you to choose from – 7 of the first ones being free, and the rest are commercial ones with free trial options.
Happy prototyping!
If we've missed out any tools or softwares which are not listed here, do leave us a message through the comment section below. Also do take note that this compilation is not final and will be updated as we gather new resources.
Free mobile & web prototyping for designers. Turn sketches and designs into interactive web, iPhone, iPad, Android and Apple Watch prototypes and mockups. Collaborate with your team and get feedback. No coding required.
It enables designers to make quick interactive prototypes without writing a line of code. Built on top of Facebook's Origami framework, Avocado provides ready-to-use patches that can be easily combined to create fully-customized prototypes.
An open-source GUI prototyping tool that's available for ALL platforms. Pencil is built for the purpose of providing a free and open-source GUI prototyping tool that people can easily install and use to create mockups in popular desktop platforms.
Instant native prototypes, build and customize native prototypes directly on device.
A free and open source mobile HTML framework to develop hybrid mobile apps or web apps with iOS & Android native look and feel. It is also an indispensable prototyping apps tool to show working app prototype as soon as possible in case you need to.
Origami is a free tool for designing modern user interfaces. Quickly put together a prototype, run it on your iPhone or iPad, iterate on it, and export code snippets your engineers can use.
Build mobile apps with simple HTML, CSS, and JS components.
Fast-growing start-up on a mission to improve the user experience of prototyping, focusing on developing RAPID prototyping tools for UX/UI designer, developer, project manager and other IT professional.
Design, prototype and collaborate with your entire team in one platform.
Prototype faster, communicate faster. For Web and Mobile Apps.
InVision gives teams the freedom to design, review, and user test products-all without a single line of code. With intuitive tools for prototyping, task management, and version control, it's your entire design process, all in one place.
Have an app idea? Whether you're a stuent, a designer, or an entrepreneur, POP helps you transform your pen + paper ideas into a real working prototype.
A rapid wireframing tool that helps you Work Faster & Smarter. It reproduces the experience of sketching on a whiteboard, but using a computer. Making mockups is fast. Generate more ideas, so you can throw out the bad ones and discover the best solutions.
A desktop application that gives business and UX professionals diagramming, documentation, and interactive tools to quickly design and share interactive prototypes and specifications.
Flinto lets designers quickly make interactive prototypes of their mobile, desktop, or web apps.
Create fully-interactive high-fidelity prototypes that look and work exactly like your app should. No coding required.
A powerful app used by professionals around the world to create wireframes, mockups, UI concepts or prototypes for their projects.
A dedicated UX Design App from designers for designers. First design and layout software focused on visual design, built by UI designers for UI designers. It saves you a lot of time creating and optimizing high-fidelity detailed UI design prototypes.
Prototyping tool, requirements management, and diagrams all in one simple, secure, integrated platform. Irise combines collaborative prototyping software with simple requirements management so you can communicate clearly and iterate quickly.
Adobe XD is made for fast, fluid UX design with innovative tools that eliminate speed bumps. Switch from design to prototype in a single click. Quickly create wireframes and visual designs, preview changes in real time, and share prototypes with your team for instant feedback.
Prototyping studio for Apple Watch, iPhone and iPad apps. AppCooker streamlines App creation workflow to get ready for production in no time. It's an advanced mockup & prototyping tool on iPad. Create, play and share high fidelity mockups using native iOS widgets.
The fastest way to design beautiful interactions. Design, prototyping and collaboration for pro designers.
Lifeless mockups don't tell the entire story, but you don't have time to build a prototype. Create a brief and you can hand your designs to people in a way they can play with. You can quickly incorporate their feedback and create new iterations quickly for them to retest.
Find and fix usability issues right from your prototypes. Create prototypes in minutes which usually takes hours on other prototyping tools. Show across all devices even when you are offline.
Build jQuery Mobile apps, the easy way. Codiqa is a powerful drag-and-drop builder for creating cross-platform HTML5 mobile apps and websites. It's simple, easy to use, and so damn useful.
Create fully interactive prototypes that look & work exactly like your app. Share, annotate and get valuable feedback faster, every image has a story, tell your story with Concept.ly
Get a prototype running on your phone in 5 easy steps and in less than 15 minutes.
Start with simple code to bring your design to life. Test it on any device, iterate as you go and share easily for feedback. Pioneer new interaction patterns or create groundbreaking animation. No limits, no constraints.
A prototyping tool designed to build wireframes for web, mobile and wearables. It helps to visualize planning processes, build and test drive interactions very easily. Create and share fully interactive prototypes with your team and clients and gather feedback on the process.
Build responsive, code-free prototypes of your application and get it right from the start. Everything is geared towards helping you prototype UX flows. All you need to consider is what your user sees, what do they do next, and what the end result of the action will be.
Mock up an application and show what's important – the idea, the information, the interaction.
Your app vision into real code in hours, not weeks. Build real native mobile apps better and faster.
A collaborative online wireframing and prototyping tool, which works entirely in your web browser. Easily create clickable mockups, wireframes & GUI prototypes without programming. Share your results with collaborators, reviewers & test users for real-time editing, discussion and approval.
Experience real, native prototyping. Pixate generates 100% native prototypes, so you can experience your ideas on device as if they're completely real.
Principle makes it easy to design animated and interactive user interfaces. Whether you're designing the flow of a multi-screen app, or new interactions and animations, Principle lets you create designs that look and feel amazing.
ProtoShare is an easy-to-use, collaborative prototyping tool that helps teams visualize requirements with website wireframes and interactive software and mobile prototypes while working together in real-time. 
Design awesome products, with your team. Maximize your team's superpowers and keep everyone engaged – from first idea to pixel perfect.
Create clickable prototypes from sketches, wireframes, or visual mockups using Notable Prototypes. Simply upload screens, add hotspots to link them together and start testing your ideas with real users.
If you're a designer & you want to build your own website or app, your options are either programming or template-based tools that will never look or behave as you envisioned it. Weld adds a third option: a visual tool where YOU control the design and the interactivity.